How often when doing an investigation do you consider whether asbestos may be present beneath a ground floor slab? And how unexpected is it? Perhaps more common than you might think. Yesterday both WYG and Hydrock presenting at CIRIA's "Risk assessment and management of asbestos in made ground" conference held in Belfast City included case studies where asbestos was present both, below the floor slab, and as shuttering to structural elements.
HSG264 Asbestos: The survey guide within Appendix 1 also states that  "Depending on the age of the building, surveyors need to be vigilant in buildings constructed in the 1960s and 1970s for the use of AIB (asbestos insulating board) as packing and shuttering. This was frequently used simply as a convenient piece of board and not because of the need for fire protection etc."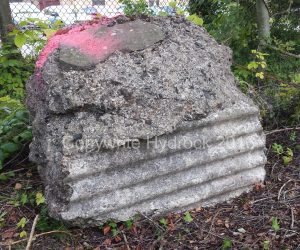 HSG264 also highlighted  that "Slab (poured concrete) floors are known to contain AIB or AC (asbestos cement) which was used as an expansion joint or shuttering below the surface." Interestingly one of the case studies yesterday found the presence of sprayed coating beneath the slab probably from the overspray of the steel structural frame before the concrete slab was poured.

Whether AIB ( typical asbestos content 20-45%), or the bound relative low risk AC (typical asbestos content 10-15%) all work activities which cause the degradation of the ACM (asbestos containing material) could lead to the release of fibres into air and pose a risk to human health through inhalation and should be prevented. Furthermore, due to the hazards posed by spray coatings (with an asbestos content of upto 85%) the HSE give the warning "Do not attempt to work on this material under any circumstances unless you are a HSE-licensed contractor."
So if you or your colleagues are involved in this type of work why not take a moment to review your procedures and consider whether those involved have:
appropriate Control of Asbestos Regulations 2012 Regulation 10 training for the work they are instructing or carrying out
understand the value in undertaking a desk study and what information this should contain to assess the risks.
are producing appropriate risk assessments and method statements  based on the task, the requirements of CAR2012 and the findings of the desk study.
satisfied themselves that the operatives carrying out the work are experienced and trained at identifying  potential ACM's once they have been in the ground for a number of years.
sufficient knowledge to know when to stop the works and get a specialist and/or licensed contractor involved.